Hello, ghosts and ghouls! If you're here for the
Debut Authors Bash
, then you're in the right place (here, have a cookie). Today I'll be featuring Rin Chupeco, author of
The Girl from the Well
, a book about a ghost with a few twists! I have an interview with Rin
and
there's an international giveaway, so you'll probably want to stick around. If not, well, the girl from the well just might get you....
Interview
Rachel
:
Hi, Rin! I think
The Girl from the Well
sounds scary good. But I have to ask—what on earth inspired you to write it?
Rin
:
Unfortunately (or fortunately, in this case), I look a bit like one of those female undead gracing the majority of Asian horror movies, complete with long black hair and a pale complexion. Some people I share a building with at my old job learned that the hard way whenever I worked overtime. (There was one Japanese guy that I'm pretty sure I gave recurring nightmares to.) That was when the notion of a horrific ghost as an ally came to me.
The idea took hold even further after watching a horror movie marathon with a friend. Said friend posed a hypothesis: what if you were one of the characters in these movies where the ghost in question was an unstoppable vengeful spirit – was death your only option? How would you defend against something like that?
"With another ghost!" I said – and realized that could make for a good story.
Rachel
:
I've seen your book pitched as
Dexter
meets
The Grudge
—is that accurate (because SCARY)?
Rin
:
I hope it's accurate! Like ghostly Kayako from The Grudge, my Okiku is a relentless, grotesque ghost. It's a sure guarantee that any human being she directs her rage to will die soon (and as horrifically as she is able to), even if they don't know it yet. Like Dexter Morgan though, her anger is only directed toward a special breed of people – murderers. She's made it a point not to target the innocent, so killing killers is her means of justifying her existence. And like Dexter, she soon realizes when she begins to involve herself in the affairs of people, that things are not always going to be as cut-and-dried as that.
Rachel
:
Do you want readers to be creeped out like the heebie jeebies, or to have the you-know-what scared out of them? (Asking for a friend. AKA me.)
Rin
:
I want them to be at least marginally creeped out, though whether or not they'll be scared out of their wits is relative. I based The Girl from the Well off of old Japanese legends, which are more inclined to be atmospheric than scary. Okiku lived during the time these legends were being written, so I wanted the creepiness to reflect her past and her formal, somewhat stilted personality. I wanted a fine sense of doom to permeate throughout the story, which would certainly up the creepy factor, but I think it's not going to be scary in the conventional, modern way we know ghost stories to be. But then again, your mileage may vary! There's a sequel / companion novel in the works that's more likely to have the bovine fecal matter scared out of readers, so to speak.
Rachel
:
I see that
The Girl from the Well
is also based on a Japanese ghost story. Does Japanese lore play a part in your novel? What Japanese literature would you recommend to readers?
Rin
:
The Girl from the Well is definitely all about Japanese lore. I wanted to take something that most people aren't familiar with, and write in detail about it, in as engaging a manner as I can. I've always been fascinated with Japanese culture and I've been addicted to ghost stories since I was a kid, so combining the two seemed like a good idea. The Girl from the Well is from a Japanese legend called the Bancho Sarayashiki, about a servant girl who was killed and thrown down a well, only to rise as a ghost the next night. Ghostly Japan and Kwaidan: Stories and Studies of Strange Things by Leafcardio Hearn are great books to get in the mood for all things Japanese and creepy.
Rachel
:
What are five fun facts about
The Girl from the Well
?
Rin
:
a. A lot of people assume that The Girl from the Well was based directly from The Ring. Actually, it was based on the Bancho Sarayashiki as mentioned, which is also the Japanese legend where The Ring itself was based on. The majority of Asian horror movies are actually inspired by either the Bancho Sarayashiki or the Yotsuya Kaidan – both are the two most popular ghost stories in Japan. (The Ring movie was actually based on the novels by Koji Suzuki – oddly enough, it was less of a ghost story and more of a medical thriller).
b. Okiku's habit of referring to herself in the third person is part of her defense mechanism. A part of her remains horrified at what she'd become, so every time she kills she falls back on the third person as if convincing herself that she could separate that murderous ghost from the shy, kind girl she remembers being. It at times contradicts with her own gleeful admission that she enjoys killing, to make things complicated. She's also very formal, so I tried to make the writing style have that foreign inflection, like she didn't learn English the normal way.
c. Excepting the town of Applegate and the Chinsei shrine, all other places and locations mentioned in the novel are real. I tried my best to research these places, and read / watched as many documentaries about them as I could. There's a channel I watch called NHK that specializes in educating people about Japan, and they do a lot of shows about places most people outside the country don't know about, which I've found very helpful.
d. That said, I have never actually been to Japan, though I do hope to change that in the near future. I've quizzed people who've visited though, in a bid to try and have as much accuracy in my research as I could.
e. You won't find any of the rituals mentioned in the novel in any Buddhist / Taoist texts, because I made them up. The challenge was writing down the rules for the rituals to follow, and ensuring that it adheres to a lot of Buddhist / Taoist / spiritual practices to make them credible (using sage and sweetgrass to purify an area, for example, is a real concept, as is the very ancient practice of using dolls to repel or contain spirits).
Rin
:
Roaches, hands down. I am terrified of roaches, and at times I do think I would much rather confront an undead ghost than those multi-legged abominations thriving in defiance of God's will.
Rachel
:
Do you have a favorite part or scene you could tell readers about?
Rin
:
One of our protagonists visits the actual well Okiku had been murdererd in, and sees something inside that she wishes she didn't. It's a very quick look into Okiku's past that would either make you sympathize, or be extremely creeped out by her.
Rachel
:
What's your writing process?
Rin
:
Happily, I don't have one. I just write when I think I ought to write, and then don't when I feel like I shouldn't (writing when you're uninspired is always harder to fix). I clock in enough writing hours that I don't feel like I procrastinate much, and since I tend to come up with ideas as I go along, not having a plan helps me write without any restrictions or expectations. As disorganized as it sounds, this seems to work best for me.
Rachel
:
Using the letters of EXORCISM, how would you describe yourself?
Rachel
:
You see
The Girl from the Well
in-store for the first time—what do you do?
Rin
:
Take a hundred photos of the books sitting on the shelves. Happy dancing will eventually factor in somehow, as will much consumption of cake. But in the end, it's on to the next book, and the next ones after that.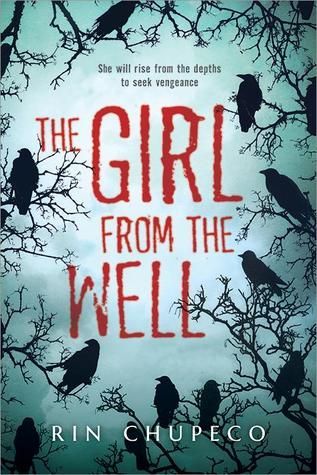 Title
:
The Girl from the Well
Publisher: Source-books Fire
Publishing Date: August 5, 2014
You may think me biased, being murdered myself. But my state of being has nothing to do with the curiosity toward my own species, if we can be called such. We do not go gentle, as your poet encourages, into that good night.
A dead girl walks the streets.
She hunts murderers. Child killers, much like the man who threw her body down a well three hundred years ago.
And when a strange boy bearing stranger tattoos moves into the neighborhood so, she discovers, does something else. And soon both will be drawn into the world of eerie doll rituals and dark Shinto exorcisms that will take them from American suburbia to the remote valleys and shrines of Aomori, Japan.
Because the boy has a terrifying secret - one that would just
kill
to get out.
The Girl from the Well
is A YA Horror novel pitched as
Dexter
meets
The Grudge
, based on a well-loved Japanese ghost story.
Author
Despite an unsettling resemblance to Japanese revenants, Rin Chupeco always maintains her sense of hummus. Born and raised in Manila, Philippines, she keeps four pets: a dog, two birds, and a husband. Dances like the neighbors are watching.
Website
|
Twitter
Giveaway
Three people will win a prize! Up for grabs is a signed hardcover of
The Girl from the Well
and two signed crocheted ghost keychains, and each prize will come with a signed bookmark! Just follow the rules and you won't be cursed for all eternity.
-This is open INTERNATIONALLY.
-Please don't cheat, because cheating (and shady) entries will be disqualified.
-Neither Rachel of Beauty and the Bookshelf nor Rin Chupeco nor anyone associated with the Debut Authors Bash are responsible for any lost or damaged prizes.
-Contest begins Wednesday, September 3, 2014 at 12:00 a.m. EST and ends on Wednesday, September 24, 2014 at 12:00 a.m. EST.
-Winner will either be tweeted and/or emailed and will have forty-eight hours to respond or a new winner will be chosen.
a Rafflecopter giveaway