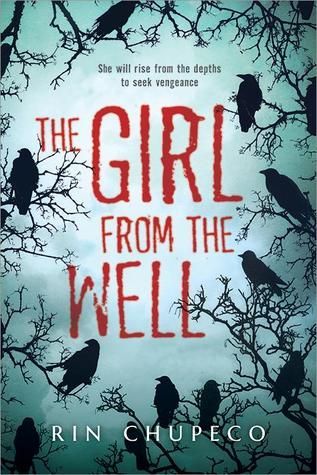 Title:
The Girl from the Well
Publisher: Source-books Fire
Publishing Date: August 5, 2014
You may think me biased, being murdered myself. But my state of being has nothing to do with the curiosity toward my own species, if we can be called such. We do not go gentle, as your poet encourages, into that good night.
A dead girl walks the streets.
She hunts murderers. Child killers, much like the man who threw her body down a well three hundred years ago.
And when a strange boy bearing stranger tattoos moves into the neighborhood so, she discovers, does something else. And soon both will be drawn into the world of eerie doll rituals and dark Shinto exorcisms that will take them from American suburbia to the remote valleys and shrines of Aomori, Japan.
Because the boy has a terrifying secret - one that would just
kill
to get out.
The Girl from the Well
is A YA Horror novel pitched as
Dexter
meets
The Grudge
, based on a well-loved Japanese ghost story.
Book in One Word: Interesting.
First and foremost, a big thank you to
Nikki from There Were Books Involved
for giving me her ARC!
I thought
The Girl from the Well
could be a really good scary story. I mean, come on, it's about a ghost who's kind of like The Grudge. And while this book did focus a lot on a Japanese ghost story and had lots of those elements to it, this just fell short. I wasn't even scared; I was just kind of
there
, reading it.
While this book didn't necessarily have any glaring issues, it did have lots of pieces that built up and made me unable to connect with or really care about this book. I read an ARC, so I don't know how much is different in the final version, but there were some big grammatical/formatting/etc. problems with this. Some singulars and plurals were mixed up; if a person talked for more than one paragraph each paragraph began and ended with quotation marks, which is incorrect; dialogue ended with a period then went like this:
"I want ice cream." Said Joe.
This book looked like it still needed some editing done.
I may not have realized this if I hadn't seen others mention it, but the dialogue was awkward. Some conversations just seemed....too structured, too acted out, and kind of unnatural. And I think this was really in first person POV, and the MC would use "I" for themself and "he" and "she" for others--or other names for descriptors, which was kind of annoying, and my gosh, we don't need to hear someone referred to with their first
and
last name--but sometimes we'd actually get to a know a different character's inner dialogue, which didn't really make sense. Also, sometimes the words would just go like
this
and continue on and it wasn't all the time and mostly random and I didn't really get that. It's odd, because this writing style (or similar to it, because this was a bit unusual) usually drives me kind of crazy, but I wasn't super bothered it. For this story I think it may have worked, but it still needed some refining. The plot and story idea itself wasn't bad, but it didn't make a whole lot of sense to me, and when Japanese words were thrown in without really being defined I was lost. Like, was I missing a glossary?
I get what people mean when they say they didn't connect to a character(s). I certainly didn't connect to a murderous ghost, and while I liked Tarquin we never really got anything from him, and I didn't care for his cousin Callie being in the story, and how she was "in this now" and blah blah blah. There's a teeny bit of background on the ghost, but I wanted
more
. I wanted to really know her story and what happened and what she was like as a human. It would've been really nice to get more from Tarquin, too--maybe tell the story in a dual POV between him and the ghost. Maybe I would've cared more and, in turn, liked the book as a whole more.
This book was weird and
interesting
. Not interesting like,
ooh, that painting is interesting
, but interesting like when someone shows you a dead animal for an example of something and you just kind of nod your head like
uh huh, okay
. I think being in the head of ghost who's super old is part of it. (I could've sworn I read somewhere that Chupeco tried to write the voice of a ghost who's trying to understand America--since she's from Japan and a long time ago--but I can't find it. I kind of get it, since reading about this, but still.) It wasn't scary, it was just ODD and kind of messy and I don't even know. There was this one chapter where I was just like WHAT THE HELL and again, weird.
In the end,
The Girl from the Well
was,
well
. It's hard. Because I wouldn't say I
dis
liked this book, but I wouldn't say I
liked
it, either. I've seen some people love it, which is great. This works for them. But I've also seen some people not love it, and I can see why. Somehow, everything about this book works for
this book
, but that doesn't mean it works for
the reader
. The first chapter was pretty good, but then eventually ti all weaned off and I got closer and closer to the end, and I didn't mind that it was ending. So yeah.
Interesting
.
Did I like it?
Maybe?
Would I reread it? Doubtful.
Would I purchase it? Probably not.
Who would I recommend it to? Fans of ghost stories, unique writing, and Japanese elements.
I received a copy of this book from the publisher in exchange for an honest review, and that in no way sways my opinion of the book.