Hello, hairy creatures! I'm very excited to feature
Evil Fairies Love Hair
on the blog today! Mary G. Thompson, the author, will be sharing some fun things about hair (of course), and I'll be telling you all about her new book! (Which sounds adorably fun, yes?) And it all ends with a giveaway you'll definitely want to enter, so read on!
Beauty and the Bookshelf: Since this book is about evil fairies who love hair, who are ten people (fictional, real, etc.) whose hair fairies would love?
Luckily, these fairies aren't too particular about whose hair they eat! All that matters is that the hair is fresh. Wig hair is gross and stale, but hair that's still on a human head is very yummy! Fairies like to eat fresh, clean hair, but they also find hair covered in hair products delicious. Hairspray can make a head of hair nice and crunchy! One thing fairies find particularly tempting is long hair. The way it moves around can be torture, since magic prevents them from actually eating hair directly off of heads. Because long hair is so horribly delicious, the fairies make girls with long hair wear their hair up in buns so they won't be tormented. Keeping all that in mind, here are some characters who would definitely torment the fairies with their delicious hair!
Topanga from Boy Meets World. Remember how in the beginning Topanga had the longest hair ever? All that thick, beautiful, clean hair moving around would have caused unending agony for a flock of ravenous fairies unable to eat it!
Hannah Montana. Now this one is complex! While Miley was playing Hannah Montana, she had long, beautiful brown hair, much like Ali's best friend Crista in the book. The fairies would have loved to eat this hair! But when the character wore her Hannah Montana wig, the fairies would have jumped for the hair, only to realize that it was actually a horrible, stale, unappetizing wig! This example shows how difficult and confusing life can be if you are a fairy who gets so excited about hair that you don't always notice you are eating a wig.
Merida from Brave. Princess Merida has a fabulous thick head of curly red hair! The movie marked an advance in hair-rendering technology, something I did not realize was so important until I watched Merida's hair flying around. Merida was lucky there were no fairies around, or turning her mother into a bear would have been least of her problems!
Rapunzel. You can't make a list of characters with fabulous hair without mentioning her! Rapunzel has existed in many forms over the centuries, but her one constant characteristic is that she always has impossibly long hair. In other words, she always has her own feast for fairies! If Rapunzel was bored and had fairies hanging around the base of her castle, she could easily amuse herself all day and night by bouncing her locks around and causing a fairy frenzy. That's something I'd like to see!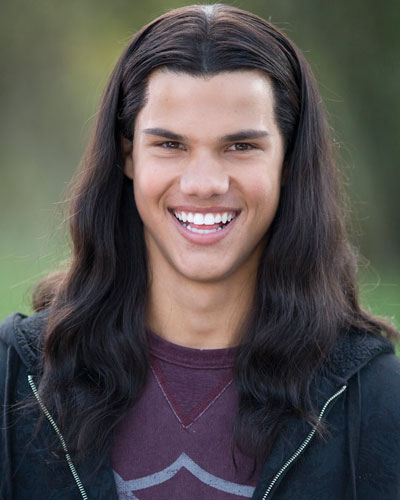 Jacob from Twilight. Now, this one is technically complicated too, since I'm pretty sure in the movie, the actor was wearing a wig that only looked delicious. But let's just pretend he wasn't. I wanted to make sure I included some men on this list for the sake of fairness. After all, fairies don't care whether they eat boy hair or girl hair. All hair is delicious! I hope the fairies were around in book two, when Jacob had to cut his luxurious locks so he wouldn't trip all over his body hair when he became a werewolf. FYI, while Jacob is a werewolf, he is safe from fairies! They only eat human hair!
Hagrid from Harry Potter. Hagrid is hairy! That's about all I need to say. It never comes up in the book, but I'm pretty sure beard hair is in the rules. If the fairies ever find a way to free themselves from children, maybe they can seek out bearded wizards. Hmm … speaking of bearded wizards ….
Dumbledore and Gandolf. Let's face it, two different books/movies, same idea. Old wizards with long white hair and beards rule! Also, they have a lot of delicious hair. Fairies probably like colored hair better than gray hair just because one imagines it would be fresher, but hey, gray hair is still a lot better than wig hair. Fairies would eat it! Also, it's possible that wizard hair contains some magic. Since fairies are always trying to improve their powers, they would definitely try it!
The bottom line is, fairies aren't picky, and they will eat almost any hair, but there are some people whose hair is particularly tempting! Can you think of any others?
Title
:
Evil Fairies Love Hair
Publishing Date: August 5, 2014
Pages: 320
|
Barnes & Noble
Ali and her middle school classmates are raising flocks of fairies to make their wishes come true. But growing a flock is harder than it sounds: the fairies eat only human hair, and the rules for dealing with them are confusing, misleading, and subject to change. As Ali and her friends struggle to earn their wishes, mistakes are made, spells go awry, and soon Ali is up against hundreds of two-inch-tall imps who have very big plans. Comedy and fantasy intertwine in this lively tale of intrigue, magic, and the power of hair.
Bonus fun! You can download a free Activity Sheet and Reader's Theatre Kit for Evil Fairies Love Hair! Just go here!
Author
Mary G. Thompson
was born and raised in Cottage Grove and Eugene, Oregon. She was a practicing attorney for more than seven years, including almost five years in the U.S. Navy, before she moved to New York City to write full time. This is her third novel.
Website
|
Twitter
|
Facebook
Giveaway
Win your own copy of
Evil Fairies Love Hair
! Just follow the rules listed below. (Those who do not follow the rules will promptly have their hair eaten by evil fairies.)
-Don't cheat, because if you do, your entry(ies) will be disqualified.
-Neither Rachel of Beauty and the Bookshelf nor Mary G. Thompson are responsible for any lost or damaged prizes.
-Contest begins Saturday, August 16, 2014 at 12:00 a.m. EST and ends on Saturday, September 13, 2014 at 12:00 a.m. EST (contest was extended due to number of entries).
-Winner will either be tweeted and/or emailed and will have forty-eight hours to respond or a new winner will be chosen.
a Rafflecopter giveaway