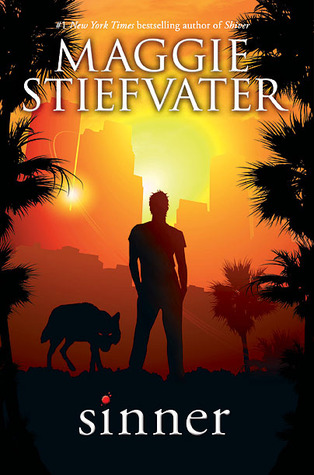 Title:
Sinner
Author:
Maggie Stiefvater
Publisher: Scholastic Press
Publishing Date: July 1, 2014
A standalone companion book to the internationally bestselling Shiver Trilogy.

Sinner follows Cole St. Clair, a pivotal character from the #1 New York Times bestselling Shiver Trilogy. Everybody thinks they know Cole's story. Stardom. Addiction. Downfall. Disappearance. But only a few people know Cole's darkest secret -- his ability to shift into a wolf. One of these people is Isabel. At one point, they may have even loved each other. But that feels like a lifetime ago. Now Cole is back. Back in the spotlight. Back in the danger zone. Back in Isabel's life. Can this sinner be saved?

Book in One Word: SINFUL.*
*
Seriously, what did you think I was gonna say?
First off, thank you to Nikki from
There Were Books Involved
for snagging this for me (and getting it signed!) at BEA!
Many years ago I read
Shiver
,
Linger
, and
Forever
, the presumed only books in the
Wolves of Mercy Falls
series. I really liked the series, and after rereading a few bits and pieces a couple years ago for the
YA Crush Tourney
, I realized how wonderful the story and the writing was. That said, I didn't looove how
Forever
ended--it was a little too open-ended for my tastes. But then
Sinner
was announced, and the wolves of Mercy Falls were back--but there's only one wolf, and he's not in Mercy Falls.
While the first three books in the Wolves of Mercy Falls was (and guess really
is
) about Sam Roth and Grace Brisbane,
Sinner
focuses on two of the major/main/minor characters from the novels: Cole St. Clair and Isabel Culpepper. If you've read the other books in the series, then you now that Cole is a wolf and Isabel is not. (Her brother was. But he died when they tried to make him not-wolf.) Oh, and they are so totally in love and need to get married and have little half-wolf babies.
Pre-wolf, Cole was the frontman for NARKOTIKA (and famous), and in
Sinner
he's back in LA to try and get back into the music scene. (But he's really there to try and win back Isabel, who moved there to the House of Ruin and Dismay.) But when Cole was in NARKOTIKA, he had some troubles: much, much drug and alcohol use, and lots and lots of sex. Now, he's sober and keeping it in his pants--however, there's still the whole wolf issue. Isabel still misses her brother, doesn't like to think about the wolves, is going to school to become a doctor (didn't see that coming), and she, like Cole, hides her emotions as her parents grow apart and life after Jack (her brother) moves on.
The two come together again for
Sinner
in an entangled story full of fantastic writing (see, THIS is what I wanted from
The Raven Boys
) and excellent voices. It's like we, the reader, are back in Mercy Falls...except not. Yes, the setting is different. But I really remember the mood of the series from Sam and Grace's POV, not Cole and Isabel's. Here, it's different. Maggie Stiefvater has successfully made each POV separate and their own, and it is so good. (Especially Cole's. He says and thinks some wonderful and witty things.) The writing really
made
this book.
There was also a great set of secondary characters that helped add to the goodness of this novel. First and foremost is Leon, Cole's driver-turned-friend. Leon is quite and shy (and super likable), but he lights up a bit with the help of Cole (who tells him to go be a tourist in L.A.). Then there's Sofia, Isabel's socially inept and totally awkward cousin who's also baking or cooking or fussing. I liked Jeremy, the hippie-esque bass play of NARKOTIKA who seems to be one of the few people who actually really knows Cole. There's also Leyla, the dreadlocked, yoga-ing new drummer who actually
bakes
, if you know what I mean. (I kind of pictured her as Ruffnut from
How to Train Your Dragon
.) And lastly is Baby--yes,
Baby
--who I did not like at all and I think she's a conniving bitch, so. (And maybe we see Sam and Grace and maybe we don't.)
In the end,
Sinner
was a nice (okay, maybe
nice
isn't the best word choice) addition to the Wolves of Mercy Falls (and Sometimes L.A.) series. Despite the series title and the animal that Cole St. Clair sometimes shifts into, this story is not about wolves. It's about a boy is one and a girl who knows about them. It's about them fighting with each other and their parents and their bosses and drugs. It's about music--making it, feeling it, listening to it, loving it, seeing it. It's about two unaverage teens--hey, one's a snarky wolf and the other is, well, a bitch--and their shivering, lingering, forever romance. Do you remember that scene in the series finale of
Sabrina the Teenage Witch
when her and Harvey each have half of that stone/diamond thing, and their halves fit together? That's Cole and Isabel (except maybe not a stone/diamond thing fitting together, something else). They are not perfect and they are not angels. They are both sinners and they fit together perfectly (okay, but maybe with a few cracks and scratches). This is the story of two sinners in L.A. and where they went after Mercy Falls. And it's a good one. (But seriously, why isn't the cover like the rest of the pre-redesigned series, why?)
Did I like it?
Yes!
Did I love it? Almost, but not quite.
Would I reread it? Possibly!
Would I purchase it? At some point this will definitely be on my shelves.
Who would I recommend it to? Well, if you've read the Wolves of Mercy Falls, I'd definitely recommend this. Also: if you're a fan of Maggie Stiefvater books, then read this. Also also: If you like wonderful prose and witticism and all that jazz then here, have a series.