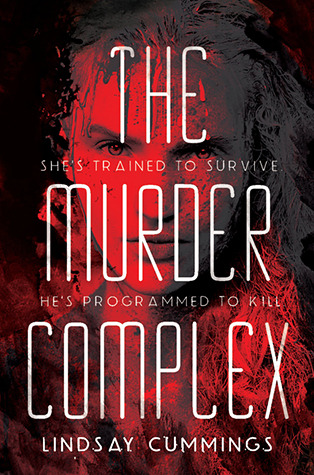 Title:
The Murder Complex
Publisher: Green-willow Books
Publishing Date: June 10, 2014
An action-packed, blood-soaked, futuristic debut thriller set in a world where the murder rate is higher than the birthrate. For fans of Moira Young's Dust Lands series, La Femme Nikita, and the movie Hanna.
Meadow Woodson, a fifteen-year-old girl who has been trained by her father to fight, to kill, and to survive in any situation, lives with her family on a houseboat in Florida. The state is controlled by The Murder Complex, an organization that tracks the population with precision.
The plot starts to thicken when Meadow meets Zephyr James, who is—although he doesn't know it—one of the MC's programmed assassins. Is their meeting a coincidence? Destiny? Or part of a terrifying strategy? And will Zephyr keep Meadow from discovering the haunting truth about her family?
Action-packed, blood-soaked, and chilling, this is a dark and compelling debut novel by Lindsay Cummings.
Book in One Word: Huh.
The Murder Complex
is one of those books that I like, but I don't know why. And to be honest, I don't know that I was super excited about this book in the first place. Somehow, this book was a page-turner and kind of addicting (I'm putting partial blame on the number of short chapters and thick margins). At the same time, it had some kind of glaring issues--and they didn't really bother me. So, you know: I don't know.
Told from the dual POVs of Meadow and Zephyr,
The Murder Complex
takes place in a future that I don't think is too distant, where disease has been eliminated and the only way to die is via murder (which happens a LOT). People are in different groups: Shallows, Wards, Initiates, Leeches, Gravers, Pirates, etc. (And they have barcodes aka Catalogue Numbers on their foreheads for identification.) There are different times in the day--the Silent Hour, the Night Siren--and a bunch of things are capitalized, as you can see. (I am not a big fan of that.) You don't want to be out at night, because that's when the murders happen, and in the morning, the streets are littered with bodies. And really, that's all about I can tell you, because I don't really understand the world in this book. It's all about saving people, yet killing people, and I don't really get all the different groups and why things the work the way they do in this book.
I don't think I loved anything about this book. I didn't hate the characters, but I didn't
care
for them either. While I did flip through this pretty fast (something about it makes you want to keep reading, and it's hard to stop), I wasn't in love--and again, didn't fully comprehend--with the story. The writing was readable and wasn't bad, but it also wasn't my favorite (and it's the sort of writing style that I'm not a big lover of). Some it was like this. And this. And this. Or it was like this, and this, and this. (But yet it kind of flowed.) Sentences seemed cut off and like they could've been longer. And the way some chapters ended, it felt like it was the end of the story, but it wasn't. (If that even makes sense.) And several times I rolled my eyes, because come on, character, must you say that, or that
again
, and yes, I know that, and that's not what you thought about that character earlier, and so on. However, I never really felt very bothered by any of it, which was totally weird.
Despite how this review sounds, I did like
The Murder Complex
. I just don't know how to review it. I didn't dislike the characters or the story, but I just didn't feel much toward them. (Oh, and this reminded me of
Divergent
and slightly of
The Hunger Games
...but not in a good way.) As debuts go, this wasn't bad, but it could use a bit of improvement.
The Murder Complex
has an addictive, hard-to-put-down quality to it and takes place in a world where murder is the biggest trend. Meadow is a tough, butt-kicking character whose internal dialogue was kind of eh, and the same goes for Zephyr, who has some issues of his own. (And
spoiler alert
, I don't dislike insta-love, but sometimes it's too insta, and that happened here,
end spoiler
.) I do want to read the sequel (WTF was that ending? What happened in those last chapters? I don't even know.), but I'm not in any rush to get my hands on it. Like I said earlier: I liked this book, but I can't quite figure out why. Really, this may just be one of those books that you have to read and decide for yourself.
Did I like it?
Yes...
Would I reread it? Probably not.
Would I purchase it? Eh, I'm not really in need of having this on my shelves.
Who would I recommend it to? Fans of fast-paced page-turners, stories you're trying to figure out the answer to, and maybe murder.
I received a copy of this book from the publisher in exchange for an honest review, and that in no way sways my opinion of the book.