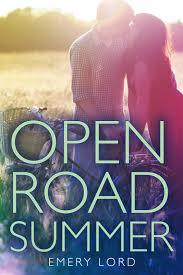 Title:
Open Road Summer
Publisher: Walker Childrens
Publishing Date: April 15, 2014
After breaking up with her bad-news boyfriend, Reagan O'Neill is ready to leave her rebellious ways behind. . . and her best friend, country superstar Lilah Montgomery, is nursing a broken heart of her own. Fortunately, Lilah's 24-city tour is about to kick off, offering a perfect opportunity for a girls-only summer of break-up ballads and healing hearts. But when Matt Finch joins the tour as its opening act, his boy-next-door charm proves difficult for Reagan to resist, despite her vow to live a drama-free existence. This summer, Reagan and Lilah will navigate the ups and downs of fame and friendship as they come to see that giving your heart to the right person is always a risk worth taking. A fresh new voice in contemporary romance, Emery Lord's gorgeous writing hits all the right notes.
Book in One Word: LIKEY!
After seeing so many people fall in love with
Open Road Summer
, I was eager to read it--and my expectations were kind of high. So I was kind of disappointed when I didn't love it myself. However, I really liked this book, found it hard to put down, and when I finished the last page I just wanted
more
.
Despite a slow start (for some reason the first chapter drove me NUTS and I almost put the book down),
Open Road Summer
picked up fast and became pretty addicting. Really, I can't think of any complaints I had while reading it. This fun, perfect-for-summer novel had three excellent things: a bitchy main character, a superb best friend, and a swoony love interest. Reagan O'Neill is the MC, and, well, she's a total bitch. But reading from her POV is totally fine--she's a good bitch, and she doesn't drive you crazy. And she's spending the summer on a tour bus with her county superstar best friend Lilah Montgomery. Lilah is such a sweetheart, and a really, really good best friend. I feel like a lot of books have this role reversed: the MC is the nice one and her best friend is the bitch, and sometimes the bestie is super unlikeable. But here that's different: we're in the bitch's head and don't hate her, and the best friend is super nice. I liked that little switcheroo. And of course, as I'm sure you've heard if you've heard of this book, there's Matt Finch. What people are saying is true: Matt Finch is SA-WOONY. And even aside from the romance aspect, he's a great character and he's suuuper fun. He adds a bit of spice to the book, and he really should've had more page time. (Character side note: I hate Corinne and she can die.)
Open Road Summer
had a lot of great things happening. The writing was totally fine and worked for the story and everything, and I'd absolutely read more of Emery Lord's work. While this wasn't a dark book, it did have some depth: friendship issues, bad boyfriends, bad choices, etc. And though a few things were predictable, there were some really great scenes that happened. Also, there were lots of song lyrics and maaaybe a John Hughes reference. Seriously, this book will make you smile and giggle and go ahhh! Plus, the setting(s): that was so fun! Reading a book and being taken from place to place and being on TOUR was nice and refreshing. (More books with characters being on tour/travelling, please.)
I know this review does a crap job of saying it, but
Open Road Summer
was a good book and a strong debut. Romance is a part of it (a lovely, lovely part of it), but this book also had a large focus on friendship, and I liked that, too. Good story line? Check. Good storytelling? Check. Good main character, best friend, and love interest? CHECK. This book was cute and fun and just a really likable contemporary that's great for all seasons and can put you in a better mood. Really, all I want from
Open Road Summer
is an
Open Road Winter
,
Spring
, and
Fall
.
Did I like it?
Yes!
Would I purchase it? I did!
Who would I recommend it to? Definitely contemporary lovers, and people looking for books with a change in setting.
I received a copy of this book from the publisher in exchange for an honest review, and that in no way sways my opinion of the book.