I couldn't think of what to post on the blog today, but then I thought, "Hey, what about an interview...with myself?" So I interviewed myself. I apologize now.
What's your name?
Princess Consuela Banana-Hammock.
What's your real name?
Rachel Patrick.
Do you have an evil twin?
Yes, her name is Begonia.
Where in the world is Begonia right now?
Off disrupting world peace somewhere.
Ah, that's not good.
Yeah, well, she's evil.
That's true. Now, back to you. How old are you?
Ugh, twenty. (Twenty one on April 6!)
PARRRTAAAY!
Er, no. Not really. I don't and will not drink.
So what are you gonna do?
I don't know, but hopefully I get lots of books. And go to the zoo and the Rainforest Cafe. Oh, and I want to go sky diving! (And to BEA. But that's wishful thinking.)
Where do you hail from?
A city forty-five-ish minutes out of Seattle! (I won't tell you where exactly, creepy internet stalkers.)
Do you have any pets?
Five! Ruger, a Lab mix; Bella, a Golden Retriever; two cats, O'hara (who we call PeesWee, or if you're my mom, Pissy) and Big Kitty; and a hedgehog, Odair.
Are you a vampire?
I may have been called one on several occasions, and I am sensitive to light (at least while driving). And I'm kind of pale. Oh hey, your veins are looking good today.
Answer these!
You're bossy.
I'm sorry, but...
I cannot stand
The Princess Bride
. I haven't read the book, but there's no way I ever will after that movie. I CANNOT STAND IT.
A pet peeve I complain about a lot...
A lot of things. But here are two that are animalistic. One: It's oranguTAN, not oranguTANG. And not everything you think is a monkey is a monkey. They are all primates, and broken down from there. (No, a chimpanzee is NOT a monkey.)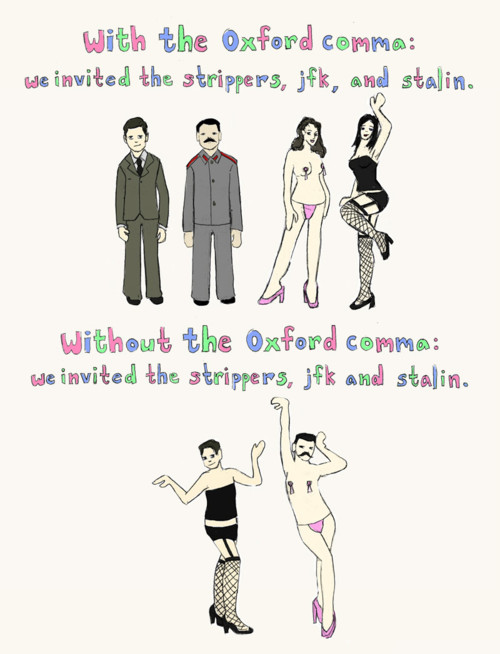 Grammar/spelling things that bother me...
For the sake of my sanity, use the Oxford comma. Always. (See picture for why.) Also, I don't understand how people spell
definitely
like
defiantly
. They don't even sound the same!
Fun fact...
I don't use
lol
because I can't stand it. (But I don't hate you for using it!)
Chocolate or vanilla?
Chocolate candy, vanilla cake. (And because I pick vanilla cake over chocolate, my mother, the chocolate lover, says I'm adopted.)
Pop or coffee?
Neither! I don't drink pop (though I do drink Ginger Ale and Canada Dry), and I rarely drink coffee--and only decaf--because it makes me feel sick. Cocoa, too.
Something weird about me is...
I have a freckle on the bottom of my foot, and I'm quite proud of it.
Something I like that other people are grossed out by...
Pickle juice! I drink it straight from the jar. It's delicious!
A book I talk about a lot that probably annoys the crap out of everyone...
The Book That Shall Not Be Named.
My favorite book is...
The Twilight Saga. They got me into reading, and I'll love them forever for that. (TwiHard forever!)
I would fangirl so hard if I met...
Lots of authors come to mind, but the first two are Rachel Caine and Rainbow Rowell. Ohmygosh, I would FLIP OUT. And maybe cry.
My favorite show on TV is...
Holy crap,
The Walking Dead
. I hate zombies and used to hate this show and be afraid of it, but I started watching this season and now I'm OBSESSED. How is the season almost over?!
New TV show discovery...
Star-Crossed
. It has its cheesiness, but I'm actually really liking it!
Favorite movie?
Beauty and the Beast
, duh.
Is this interview weird?
Totally.
So weird.
So
weird.
Hey, do you remember that show?
Yeah, vaguely. It was...weird?
For more on Rachel (aka me), you can check out her shenanigans on
Twitter
, where she is 24/7;
Tumblr
and
Pinterest
, both of which she neglects;
Goodreads
, where she stalks what people read; if you can find her on Facebook, she'll probably accept your friend request; and here, of course, on Beauty and the Bookshelf.