Welcome to Day 13 of
Don't Look Behind the Bookshelf
, you demonic little readers
.
(You can see yesterday's post
here
.) Today brings the final author of this feature, but unfortunately that doesn't mean it's going to get any better behind the bookshelf. In fact, it's going to get a little dark, a little Gothic, and a little devilish. But don't worry, there's no need to sharpen your pitchforks for...
Between the Devil and the Deep Blue Sea
. The book has a girl who's warned about the Devil, eeriness, and, of course, some swoony romance. That said, I thought it would be very cool for April to share her...
Top Ten Villains Whose Hands You Wouldn't Mind HOlding
1. Gary Oldman as Dracula in Coppola's Bram Stoker's Dracula.
My god. Oldman with his glossy brown locks and his blue-tinted sunglasses and his top hat. Give me that hand, D.
2. Moriarity from BBC's Sherlock.
He's mad. He's brilliant.
3. Willoughby in Sense and Sensibility.
He's a liar and a rake. And yet...he really knows his poetry.
4. Harry Lime in The Third Man.
Watch this and you'll see what I mean.
5. Rhett Butler in Gone With the Wind.
I'm not sure Rhett is the villain in this book. (Maybe it's Scarlett. Or the war.) Maybe Rhett is the villain and the hero. Either way...I want to hold his hand.
6. Clive Owen in Gosford Park.
Does he do a bit of murder? Sure. But who cares. Watch the way he kisses Kelly Macdonald.
7. The Gentleman with the Thistledown Hair in Jonathan Strange and Mr Norrell.
He's wicked and mad and I was rooting for his downfall. Still...I think of him fondly.
8. The unicorn in Margo Lanagan's short story "A Thousand Flowers."
[Beauty and the Bookshelf: I looked it up. She's right. Don't ask.]


9. Jamie Bell in The Eagle.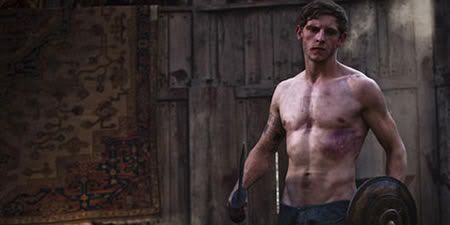 You don't know what side he's on for a good portion of this fantastic film. But I was on his side for the entire thing.
10. Jaime Lannister, George R.R. Martin's A Song of Ice and Fire series.
Jaime starts off his villian-hood with a bang by pushing a kid out a tower window in A Game Of Thrones. And then, in book 3, everything changes. He loses a hand and gains a heart. Jaime, I want to hold your hand. Jaime, I want to hold the stump where your hand used to be.
Do You Know the Devil?
Author:
April Genevieve Tucholke
Publisher:
Dial
Publishing Date: August 15, 2013
You stop fearing the devil when you're holding his hand…
Nothing much exciting rolls through Violet White's sleepy, seaside town… until River West comes along. River rents the guest house behind Violet's crumbling estate, and as eerie, grim things start to happen, Violet begins to wonder about the boy living in her backyard.
Is River just a crooked-smiling liar with pretty eyes and a mysterious past? Or could he be something more?
Violet's grandmother always warned her about the Devil, but she never said he could be a dark-haired boy who takes naps in the sun, who likes coffee, who kisses you in a cemetery... who makes you want to kiss back.
Violet's already so knee-deep in love, she can't see straight. And that's just how River likes it.
Blending faded decadence and the thrilling dread of gothic horror, April Genevieve Tucholke weaves a dreamy, twisting contemporary romance, as gorgeously told as it is terrifying—a debut to watch.
It's Devilishly Good
"

Between the Devil and the Deep Blue Sea is a stunning debut with complex characters, an atmospheric setting, and a distinct voice.

"

— VOYA, starred review
"

Tucholke paints this a moody, gothic romance with a languid brush. Moments of horror nestle against warm, dreamy kisses.

"

—

BOOKLIST, starred review
"

Give this one to fans of creepy mysteries, particularly tales that don't skimp on the violence. They'll appreciate the conclusion's heart-pounding, bile-rising standoff.

"

—

School Library Journal, starred review
The Devil Herself
April Genevieve Tucholke is a full-time writer who digs classic movies, redheaded villains, big kitchens, and discussing murder at the dinner table. She and her husband—a librarian, former rare-book dealer, and journalist—live in Oregon.
Between the Devil and the Deep Blue Sea
is her first novel.
Website
|
Twitter
But Wait, There's MOre!
Thank you for stopping by Don't Look Behind the Bookshelf today! I hope you enjoyed April's post, visit her sites, and check out her book! You never know, it may give you a little sympathy for the devil.
Don't Look Behind the Bookshelf has brought thirteen gory-ious days of Halloweenrific posts and authors, and I am so grateful that you stopped by for it all. But it's not done! So be sure to stop by tomorrow for a little recap post!