Hello, people of the universe! Welcome to my stop on the blog tour for Katherine Grace Bond's The Summer of No Regrets, hosted by Book Nerd Tours! You'll get to see my review, where I talk about all the likes I felt for this book, as well as find out everything you need to know about the book and Katherine. Oh, and there's a super awesome giveaway, so be sure to check it all out!
Author:
Katherine Grace Bond
Publisher:
Source-books Fire
Publishing Date: May 1, 2012
This was the summer that would change my life.
No more being what everyone expected. No more doing what everyone else wanted.
So when Luke came into my life, I decided to keep him a secret. Maybe he as a dead-ringer for notorious Hollywood bad boy Trent Yves. And it was possible that everything he told me was a lie. And yes, I was probably asking for trouble. But all I saw was Luke--sweet, funny, caring--someone who would let me be the real me.
But which was the real him?
Initial Reac
tion of Book in One Word: Regretless!*
*I couldn't help myself. I like puns. And wittiness.
I quite liked
The Summer of No Regrets
. It certainly wasn't I thought it was going to be--a super cute, fluffy story about a girl who falls for a possible celebrity in disguise. It is so totally not. Yes, there's still some fluff and cuteness, but it had more depth and seriousness to it. This book deals with love--romantically and not--loss, friendship, spirituality, and so much more. It's a good contemporary, and I may have shed a tear. Or several.
I'll get the negatives out of the way. Fortunately, there wasn't anything that I glaringly disliked about the book, just some small things. I liked the beginning and really got into it with the last 100 pages or so, but the middle was a little slow for me. The way some people acted slightly bothered me--it just wasn't super realistic or it made a character a bit dislikable (though they were later redeemed). (Also,
SPOILER ALERT
, why did that have to happen to the kittens? Why?! Broke my heart and made the animal lover in me want to go out and save all the animals.)
The Summer of No Regrets
also features lots of talk of religion and spirituality. That may hinder some people from reading because they don't want to read a book about religion. However, I would not call this a religious book. It's more about a girl trying to figure out she is (or was) and where she fits in, with what part of the family. If you're choosing not to read this because of religion, please don't!
The characters were, for the most part, likeable. Brigitta, the MC, is a teen who's still mourning the loss of her grandparents and the life she had with them. The Center--one crazy eco-building--is occupied by her and her eccentric family: practical big sister Mallory, fairy-believing mother, and pony-tailed, drum-wielding father. Each family member is different, but they all have roles that make the story. Trent Yves was not my favorite a character--nothing more than an egotistical actor. Luke, on the other hand, was much better. He was a little sketchy and off throughout the book, but toward the end we learn what's up with him and he becomes a better person.
There were two things I really loved about this book. First was the cougar cubs--I was not expecting an exotic animal as an element to the story, and as a huge animal lover, I really enjoyed that aspect. Secondly, I loved the blog posts that were throughout the book. They were so fun and refreshing, and I just wish there was more!
Bond's writing was pretty readable and it flowed well. Some dialogue--internal and external--was a little cheesy and awkward, but otherwise it was fine. I liked the POV and the wrting-style, and the story was a fun one. (And she gets bonus points for being a local author!)
While I didn't love this book, I did like it--and I don't regret reading it.
The Summer of No Regrets
is a nice story with romance and loss, family and friendship, and a very hippie house.
Did I love it? Not quite.
Would I reread it?
Maybe.
Would I purchase it? Already have it!
Would I recommend it? It's a nice contemporary that I think is worth reading.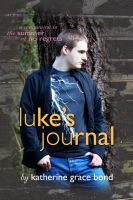 Ahhh, but wait! Do you want to know where Luke was when he wasn't with Brigitta? Then never fear, a story is here! Check out Luke's Journal! It's only $0.99, but that price won't last forever! Get it HERE!
17-year-old Luke Geoffrey is hiding out—or at least, that's the plan. A tiny rural town seems the perfect escape from all the people who want little pieces of him. But when Luke is rescued from a mountain lion by a girl with green eyes, his heart turns upside down. Now his two worlds are crashing together. Should he tell Brigitta his secrets? Or will knowing them only drive her away?
The Author
Katherine Grace Bond is the author of The Summer of No Regrets

(Sourcebooks, 2012) and of the bestselling

Legend of the Valentine

(Zondervan, 2002), a story of the civil rights movement. She often finds herself in the woods escaping from giant cats and shadowy figures in cloaks. The creator of TEENWrite acting/writing workshops, where participants come as their characters, she lives with her husband in a dimension populated by younger people, some of whom resemble her.
The Giveaway
a Rafflecopter giveaway