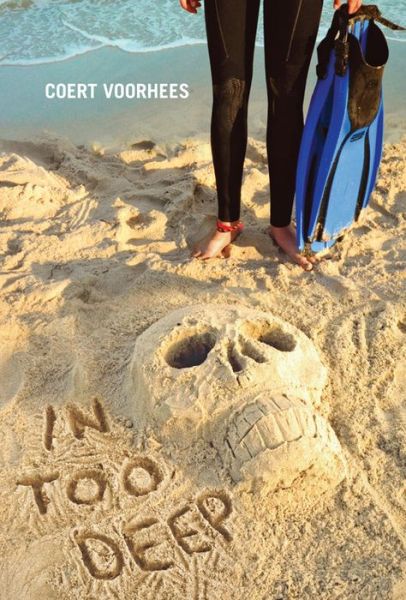 Title:
In Too Deep
Author: Coert Voorhees
Publisher: Disney Hyperion
Publishing Date: July 9, 2013
Pages/Format: 322, ARC
Annie Fleet, master scuba diver and history buff, knows she can't fight her nerd status as a freshman at her Los Angeles private school. And she doesn't care—except for the fact that her crush, Josh, thinks she's more adorable than desirable. Annie is determined to set him straight on their school trip to Mexico. But her teacher has other plans: he needs Annie to help him find Cortez's lost-long treasure.
Suddenly, Annie finds herself scuba diving in pitch-black waters, jetting to Hawaii with Josh, and hunting for the priceless Golden Jaguar. But Annie and Josh aren't the only ones lured by the possibility of finding the greatest treasure ever lost at sea. Someone else wants the gold—and needs Annie dead. In deeper danger than she ever imagined, can Annie get the boy and find the Jaguar, or is she in over her head?
Critically-acclaimed author Coert Voorhees delivers breathtaking romance and non-stop action in his newest novel, the spirited and captivating In Too Deep.

Initial Reaction of Book in One Word: FUN!
When I first spotted this book at the Disney Hyperion booth at ALA Midwinter, I thought it looked interesting. Upon reading the synopsis, I thought it looked like a fun read, reminiscent of
Fool's Gold
(movie), and I was intrigued. I'm not quite sure what I expected from
In Too Deep
, but while it wasn't amazing (and I don't mean that in a rude way), it was a super fun book that's perfect for summer, and it helped to pull me out of my book slump. (And while reading it, whenever I put it down, I just wanted to get back to it!)
There was very little that I didn't like in this book. Sure, it lacked a wow factor, but I think it's meant to be a more simple read. I liked the writing; it was pretty readable, and the voice didn't annoy me. I enjoyed it. My main issue was the dialogue. On more than one occasion something would be said and I didn't understand why--it seemed to come out of left field, and if it fit with the current conversation, I didn't get what it meant. I was driven a slight bit crazy by conversations starting with
He said, "..."
I, personally, am just not a fan of that. Some terms--all this talk about boats and diving equipment and all that--kind of went right over me, but that wasn't too big a deal. Also, some things just seemed a little too unrealistic.
I liked the characters. Annie Fleet, a fifteen-year-old super scuba diver and lover of history (like lost treasure), was an entertaining POV. Her voice was pretty true to her age and personality, and it worked. Aside from a few things, she was just a normal teenager, and that was written well. Annie also happens to have a mega-crush on Josh Rebstock, the son of a movie star. I didn't see Josh as anything amazing, but he was a well-portrayed teenager who knows how to use the charm, and is a good guy; I liked him. And I liked the little "romance" between Annie and Josh. I like how it went on throughout the novel before much even happened, but wasn't dragged out; it was similar to a realistic portrayal of two people liking each other. The other characters were great, from Annie's strong-headed closet-geek best friend Gracia to Josh's unfortunate ninja friends Katy and Nate Sugar. No matter how minor, they all played a role in the book, and it worked out well. I liked it.
In Too Deep
is a super fun read with a touch of cuteness about some teenagers on the search for a long-lost piece of treasure, the Golden Jaguar. It has several settings, from a private school and dive shop in LA to the waters of Mexico and Hawaii. And of course treasure hunts are never a piece of cake. The Pinedale Academy treasure hunters have to race another, more viscous group of treasure hunters to the prize, finding clues along the way. With brushes of death, touches of sweet romance, and a super fun (I know, I use that word a lot) adventure,
In Too Deep
really is an enjoyable read.
When X marks the spot, I really did like this book. It's an easy breezy book that I just needed right now, something that's simple and not serious and just hits the spot. It was fun and funny, had a romance that I liked and wasn't the center of the story, just a nice subplot, and an adventure that I wouldn't mind going on. If, you know, being in oceans didn't freak me out. And I could swim. Anyway,
In Too Deep
wasn't too deep, and it wasn't shallow--it was just about at the right spot. If you're looking for a quick summer read that will make you laugh and smile (and maybe squeal and kick your legs in excitement), then this is the book for you. From page one you're on a treasure hunt, and you'll never know if you get the treasure unless you read it!
Did I like it?
Yep! Quite!
Did I love it?
Not quite.
Would I reread it?
I wouldn't say never.
Would I purchase it? I wouldn't mind having it on my shelf.
Would I recommend it?
Yes--it's a simple, fun book that's great for summer.