Title:
The Nightmare Affair
Author: Mindee Arnett
Publisher: Tor Teen
Publishing Date: March 5, 2013
Pages/Format: 367, ARC
Goodreads
|
Amazon

| Book Depository
Sixteen-year-old Dusty Everhart breaks into houses late at night, but not because she's a criminal. No, she's a Nightmare.
Literally.
Being the only Nightmare at Arkwell Academy, a boarding school for magickind, and living in the shadow of her mother's infamy, is hard enough. But when Dusty sneaks into Eli Booker's house, things get a whole lot more complicated. He's hot, which means sitting on his chest and invading his dreams couldn't get much more embarrassing. But it does. Eli is dreaming of a murder.
Then Eli's dream comes true.
Now Dusty has to follow the clues—both within Eli's dreams and out of them—to stop the killer before more people turn up dead. And before the killer learns what she's up to and marks her as the next target.

Initial Reaction of Book in One Word: FUN
Going into The Nightmare Affair, I think I was expecting something dark--tone/mood-wise, story-wise, and writing-wise. What I got was pretty much the opposite: a light, snarky, teenage voice that was just plain fun. While I think the story would've been interesting if it was darker, I liked how it was--I enjoyed the book, and it ended up being really fun. It's kind of like Paranormalcy--great voice, concept full of different creatures--except I liked it better.
I don't have many complaints with this novel. There were a few times the writing bugged me--repeat words/phrases, a lot of talk about looks, some punctuation I would've changed--otherwise it was pretty good. The other thing about this book--although I enjoyed it--it just didn't give me a wow factor. It was a simple, albeit funny, book. What it did succeed in doing, however, was bringing out reactions from me: several times I'd smile or laugh or be like "OH SNAP!" I love when books can get such feelings out of me.
I liked how this book was kind of like solving a puzzle. Dusty Everhart's a Nightmare--she feeds off people's dreams. Long story short to avoid spoilers, when a student at Arkwell Academy (a school for magickind) is murdered, Dusty goes on a search for the killer. As Dusty tried to figure out who the killer was, so did I. I had some guesses that were close, and some answers came about and I was shocked--and that was awesome. Maybe this book was Nancy Drew meets Paranormalcy. Nancy Drew because Dusty tries to solve a murder--and may get herself into some trouble along the way--and Paranormalcy because Arkwell Academy is full of all kinds of magickind, from werewolves and hags to faeries and demons (and I LOVE how they're all in one place).
While I never full connected and fell in love with the characters, I still liked them--they were normal, seemed like real people and teenagers, and were fun and enjoyable (I'm saying that a lot, aren't I?). Dusty--main character, book's in her POV--was a bit of a smartass, which I loved. She was an entertaining POV, making blunders and embarrassments like all teens do. I also thought it was cool that she's a Nightmare--don't get a lot of those in YA, do we? She has one of those best friends that's all "hurt my best friend, I'll hurt you," or at least that's what I thought. Her name's Selene and she's a Siren--but she protests using them as sex-objects. Eli plays an interesting part--and he's fully human, so he can't do magic. There's also Paul (who I kept picturing as Sam Claflin), and I liked him. There were a bunch of other characters, too, and they all brought something different--personalities, traits, etc. (Also, I thought Dusty's "relationship" with Lance was entertaining.)
Even though I didn't love The Nightmare Affair--it was just missing something that give it a wow factor--it was still a fun read that I liked. It had twists and turns, laughs and love, and all kinds of goods. If you're looking for a light read to pass the day (or night) then this is definitely a book for you. In the meantime, I'm looking forward to having an affair with the next installment in The Arkwell Academy series.
Did I like it?
Yes.
Did I love it?
Not quite.
Would I reread it?
Maybe.
Would I purchase it? Possibly.
Would I recommend it?
Yes.
The Author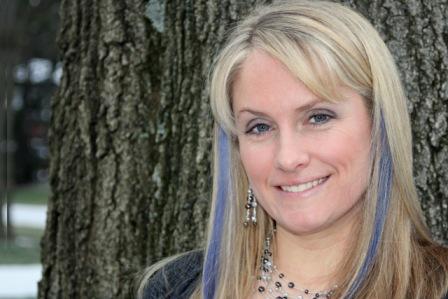 Mindee Arnett lives on a horse farm in Ohio with her husband, two kids, a couple of dogs, and an inappropriate number of cats. She's addicted to jumping horses and telling tales of magic, the macabre, and outer space. She has far more dreams than nightmares. To learn more about Mindee, visit her
website
and
Twitter.



Giveaway