For some reason, I'm having a guest post with the evil bloggest ever, aka
Benji from The Non Reluctant Reader
. He may seem nice and innocent and snarky on
Twitter
, but he's really not a good person. So I guess you can read his guest post. If you want. (You think I'm being mean. Read the very end of this post for clarification.)
Top Five Scary Books for Fall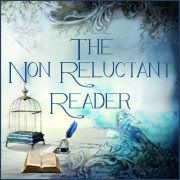 First of all, I want to give thanks to Rachel for not only asking me to guest post but for being so god awful scary. I didn't even have to sit down and come up with a Halloween costume this year, I can just dress up as her. I'm not sure if people will let me come up and knock on their doors for candy, because their children will run and hide. Anyway, onto the books...
5. Alice in Zombieland by Gena Showalter - First things first, this is not really a mashup novel, it's an awesome zombie-slaying, arse kickin' novel that isn't that scary but gets you in the right mood for Halloween! Plenty of fun!
4.
Girl of Nightmares
by Kendare Blake - True, this one did come out in August not actually the fall, but this series is gut turning ghost hunting action that will make you keep the lights on all through the night and go into
complete
panic mode at the drop of a pin!
3. Demon Eyes by Scott Tracey - Man, this novel. It takes place where I live, so I may be a little biased, but it's great witchy fun with plenty of epic battles with, you guessed it, demons. One of the best sequels of 2012!
2. The Evolution of Mara Dyer by Michelle Hodkin
- EEP. Though this one is different as there are none of the typical main monsters/paranormal creatures, but there is epic paranormal mystery and
psychopaths
What more do you need?
1. Velveteen by Daniel Marks - I *LOVED* this book. Velveteen has an awesome voice and there are lots of adventures in purgatory plus an awesome villain serial killer. It's the perfect package.
Thanks for the recs and post, Benji! So he really isn't that bad--he's one of my local book bloggers, and we always mess around like that. So don't panic--this is not a hate post! He is, however, the evilest blogger ever.
Thanks for stopping by!