Don
'
t Look Behind the Bookshelf
What are you doing here? Did you not see the letters in huge red script?! It told you not to look behind here--
and you did
. Now you have no choice but to pry your eyes open and be exposed to yet another day of
Don't Look Behind the Bookshelf
. (You can see yesterday's interview
here
.) The final interview of this spookish feature has an author who's not-yet-released debut novel contains one of the things that scares people year round, every night--nightmares. You'll want to have an affair with her novel when it's out! Please awake from your daydreams and welcome...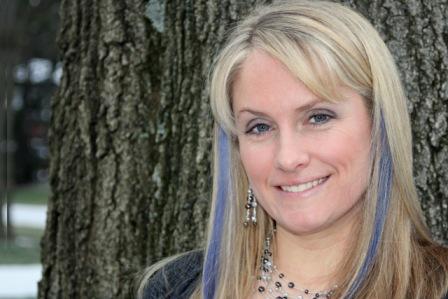 M

i

n

d

e

e

A

r

n

e

t

t
Truth or dare?
Dare, especially one that involves crossing the cemetery at night or investigating the abandoned house.
Best Halloween creature?
What's the worst and best candy to get on Halloween?
Worst: Candy corn (yes, I know, but I just can't stand it)
Best: Milky Way Midnight Bar (this is my MC's favorite, too)
What's your most memorable Halloween costume?
This one isn't mine, but it's too good not to share. A friend of mine once went as an outhouse. He made it out of a refrigerator box and cut slits in the sides to carry it around. Funny part is that he wore it to an annual bonfire/keg/Halloween party out in the country. Needless to say, the costume functioned as an actual outhouse more than once that evening, ahem.
Best movie to watch for Halloween?
R-rated movie –
The Descent
. Easily one of the scariest and also one of the best crafted horror stories, period.
Family rated movie (scary) –
The Watcher in the Woods
. This is an old Disney. It scared the beejeebees out of me as a kid. It was my first introduction to scary stories.
Family rated movie (fun) – Hocus Pocus. No explanation needed here, right?
What scares you?
If you could be any Halloween creature what would you be?
A witch. I mean, if I'm going to have to be evil, at least I'd get to carry a wand and maybe ride a broomstick.
Do you have a real-life experience Halloween story?
I don't have a Halloween specific story, but I did live in a genuine haunted house for about 2 years. It was a farm house built in 1842. We had several strange occurrences. Objects would randomly disappear and then reappear in the strangest of places such as a flashlight in the middle of the driveway and car keys in a side door pocket of a car after several people checked for them there multiple times. Also, our dogs would regularly bark at empty furniture as if someone were sitting in it. Creepy. You know what they say about animals being more sensitive to the supernatural…
Mindee's dogs. Woof!
If you could go back in time and rewrite the legend of a fictional monster/creature, which would you choose?
Hmmm…this is a tough one. Maybe The Legend of Sleepy Hollow or Hansel and Gretel.
How do you celebrate Halloween?
With a BIG party. Both of my children were born on October 30
th
.
In about 140 characters or less please a super short Halloween story.
Okay, how about the opening to one of my short stories:
Someone had moved the headstone, dragging it from the top of the grave to its center as if to weigh down the dead lying uneasy in its coffin. Everett Thornton had died five days ago, but no one in town really believed it.
It's Friday the 13th, you're home alone, and it's dark. Simultaneously, the phone rings and you hear somebody upstairs. What do you do?
Call the dogs, and go for the guns. We live in the country, after all.
If you were in a horror movie with a classic killer what would you do to survive?
Unfortunately, I'm pretty certain I stand no chance of surviving. Too many strikes against me. I'm not a virgin, I'm blonde, and I'm definitely capable of a hellacious scream.
If some of your characters were going to dress up for Halloween, what would they dress up as?
My characters would be wearing costumes appropriate for a masquerade ball. That's because Arkwell Academy holds a masquerade ball to celebrate Halloween, or more pecifically, Samhain.
Using the letters of NIGHTMARE, how would you describe yourself?
What's your novel The Nightmare Affair about? Why do think it works for Halloween?
The Nightmare Affair
is a murder mystery set at an all-magical school. All the characters, save one, are magical. There are witches, sirens, fairies, demons, you name it. It's full of Halloween themes. The murder takes place in a cemetery! There's lots of magic and mayhem.
The Nightmare Affair doesn't come out for a while, so what are you doing in the meantime? Is there a new book in the works?
Right now I'm tentatively working on book 2 of my YA sci-fi series. I'm also expecting my edit letter for the first book in the sci-fi series any day now. After that, I should be working on revisions of book 2 in the Arkwell Academy series, followed by drafting of book 3. I also have 3 projects in the pre-writing phase. One is a YA supernatural thriller/horror, another is a YA fantasy which I like to think of as
Shadow and Bone
meets the Pony Express, and the third is a YA sci-fi thriller/horror.
Mindee Arnett lives on a horse farm in Ohio with her husband, two kids, a couple of dogs, and an inappropriate number of cats. She's addicted to jumping horses and telling tales of magic, the macabre, and outer space. She has far more dreams than nightmares.
Publisher: Tor Teen
Publishing Date: March 5, 2013
Pages: 352
Sixteen-year-old Dusty Everhart breaks into houses late at night, but not because she's a criminal. No, she's a Nightmare.
Literally.
Being the only Nightmare at Arkwell Academy, a boarding school for magickind, and living in the shadow of her mother's infamy, is hard enough. But when Dusty sneaks into Eli Booker's house, things get a whole lot more complicated. He's hot, which means sitting on his chest and invading his dreams couldn't get much more embarrassing. But it does. Eli is dreaming of a murder.
Then Eli's dream comes true.
Now Dusty has to follow the clues—both within Eli's dreams and out of them—to stop the killer before more people turn up dead. And before the killer learns what she's up to and marks her as the next target.
Thanks for stopping by! Don't forget to return to Beauty and the Bookshelf tomorrow (

Halloween!

) for the last day of

Don't Look Behind the Bookshelf

, which will feature a huge giveaway!