The Selection: Kiera Cass
Publisher: HarperCollins (HarperTeen)
Publishing Date: April 24, 2012
Pages: 327
For thirty-five girls, the Selection is the chance of a lifetime. The opportunity to escape the life laid out for them since birth. To be swept up in a world of glittering gowns and priceless jewels. To live in a palace and compete for the heart of a gorgeous Prince Maxon.
But for America Singer, being Selected is a nightmare. It means turning her back on her secret love with Aspen, who is a caste below her. Leaving her home to enter a fierce competition for a crown she doesn't want. Living in a palace that is constantly threatened by violent rebel attacks.
Then America meets Prince Maxon. Gradually, she starts to question all the plans she's made for herself--and realizes that the life she's always dreamed of may not compare to a future she never imagined.
Initial reaction of book in one word: Sigh.
*Warning: This review contains some spoilers.*
It was kind of hard for me to get into The Selection, but I won't hold that against my opinion of the book. (I've read several books that started out slow that I ended up loving: Twilight, The Hunger Games, Uglies.) Initially, I wasn't sure how I was going to feel about this book, which is like The Hunger Games meets The Bachelor--except kids don't fight to the death and there's no Chris Harrison and roses. Actually, what drove me kind of crazy throughout this whole book was how similar it was to The Hunger Games:
-America is a lot like Katniss, a girl who doesn't really want to be where she is but is there because of the people she cares for.
-When I think of Gavril I think of Caesar Flickerman.
-America has two guys she likes and who fight for her (but let's face it, that's in almost every book).
-A group of girls competing for a guy until just one is left is a less violent version of 24 tributes fighting to the death in an arena.
-The maids are a lot like Katniss's crew for makeup and hair.
-I'm almost positive (but I haven't checked) that they have the same fonts.
-America realizes that there's a lot she doesn't know about Illea and its history--kind of like all the lies of The Capitol, but I never saw Illea as evil.
There are plenty of other comparisons to The Hunger Games that were almost always on my mind. However, when I finished the book I realized that it really didn't matter. So many books are similar to each other, and ideas are bound to overlap at some point. (I have several ideas for my owns books in my head that, when I think of them, have similarities to other books.) But when I read that last page and really wanted The Elite, book two, in my hands, I knew that I really liked The Selection.
This book was one of the books that is just a really nice feel-good read. (Kind of like Anna and the French Kiss or Sarah Dessen's books--they have some good and some bad but when you finish them, you just feel good.) So many girls grow up wanting to be a princess (been there, done that--the wanting part, not the becoming a princess part), and then this book comes along giving over thirty girls the opportunity to become a member of the royal family. Even though America didn't want this--or does she now?--she still becomes one the Selected and goes to live in a palace with decadent food and divine dresses. And then there's Prince Maxon, who may seem stiff and professional at first, but then you can't help falling for him. Then there's Aspen, and I don't even know what to think of him. I think I like Maxon more than Aspen, but who knows what will happen in The Elite? I can't wait for that book (please tell me there will be ARCs available), and there was so much that I liked in The Selection:
-Aspen: The way he looks at and kisses America. You want that. I want that.
-Prince Maxon: His first kiss with America. It was awkward and sweet but I loved it so much!
-The Rebels: The attacks on the palace don't just happen to show the dangers of being royal and for some action. No, I'm pretty sure they're happening for a reason and that they're looking for something. I also have a couple ideas of people who are rebel spies. (This hasn't been mentioned, but I'm sure they exist.)
-America is changing things. She's making Prince Maxon more aware of the hardships going on outside of the palace, and that knowledge hurts him to the point where he fights to make things better.
-The Maids: They're just so nice! Some people would think the maids would act invisible or be searching for juicy gossip; not these maids. They take care of America and are more like friends than the help.
In the end, I'm pleasantly surprised with The Selection. While it wasn't quite what I thought it was going to be, I still enjoyed it. Plus, I was up until 4:54 a.m. fighting sleep to finish it. In other words, it's one of those books. (That's a good thing, by the way. There are some books that I can make myself put down as it gets late. With The Selection, I'd tell myself I'd stop at the end of the chapter...and the next, and the next, and the next.) If you've read this book, let me know what you thought of it. If not, get reading and tell me how it was!
Did I like it? Yes.
Did I love it? Yes, but not 100%.
Would I reread it? Maybe.
Would I purchase it? Yes.
Would I recommend it? Yes.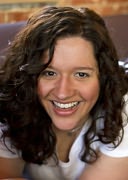 About the Author
Kiera Cass is a graduate of Radford University and currently lives in Blacksburg, Virginia, with her family. Her fantasy novel
The Siren
was self-published in 2009. Kiera has kissed approximately fourteen boys in her life. None of them were princes. You can learn more about Kiera's books, videos, and love of cake
here
.