May 23, 2016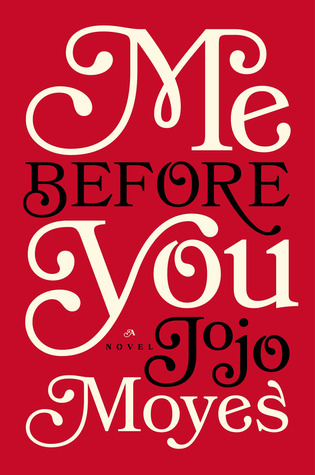 Title
: Me Before You
Publishing Date: July 30, 2013
Pages/Format
: 369, Paperback
Louisa Clark is an ordinary girl living an exceedingly ordinary life—steady boyfriend, close family—who has never been farther afield than their tiny village. She takes a badly needed job working for ex-Master of the Universe Will Traynor, who is wheelchair-bound after an accident. Will has always lived a huge life—big deals, extreme sports, worldwide travel—and now he's pretty sure he cannot live the way he is.
Will is acerbic, moody, bossy—but Lou refuses to treat him with kid gloves, and soon his happiness means more to her than she expected. When she learns that Will has shocking plans of his own, she sets out to show him that life is still worth living.
A love story for this generation, 
Me Before You
 brings to life two people who couldn't have less in common—a heartbreakingly romantic novel that asks, What do you do when making the person you love happy also means breaking your own heart?

Book in One Word: Thinker
May 20, 2016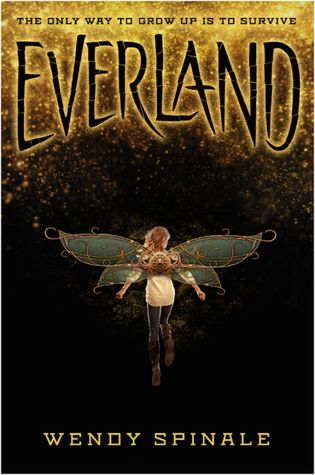 Title
: Everland
Publisher: Scholastic Press
Publishing Date: May 10, 2016
Pages/Format: 320, eARC
Add on Goodreads!
Forget the story of Peter Pan you know. Because in Everland, the only way to grow up is to survive.
London has been destroyed in a blitz of bombs and disease. The only ones who have survived are children, among them Gwen Darling and her siblings, Joanna and Mikey. They spend their nights scavenging and their days avoiding the ruthless Marauders -- the German Army led by Captain Hanz Otto Oswald Kretschmer.
Unsure if the virus has spread past England's borders but desperate to leave, Captain Hook hunts for a cure, which he thinks can be found in one of the survivors. He and his Marauders stalk the streets snatching children for experimentation. None ever return. Until the day they grab Joanna. As Gwen sets out to save her, she meets a mysterious boy named Pete. Pete offers the assistance of his gang of Lost Boys and the fierce sharpshooter Bella, who have all been living in a city hidden underground. But in a place where help has a steep price and every promise is bound by blood, it will cost Gwen. And are she, Pete, the Lost Boys, and Bella enough to outsmart Captain Hook?
Book in One Word: Disappointing
May 18, 2016
is a weekly feature hosted by Breaking the Spine that 
showcases upcoming releases people are very much anticipating.
I heard about this book when I saw the title in a friend's BEA book haul and wondered what it was. So I looked it up, read the description, and haven't stopped thinking about it since. In short: I really,
really
 want this book.
May 11, 2016
is a weekly feature hosted by Breaking the Spine that 
showcases upcoming releases people are very much anticipating.
This book is, in fact, one of my most anticipated. Not just as a debut, not just as a standalone (which I
think
 it is?), not just as a 2017 release. This book is, in general and as a whole, one of the
very top
books
I'm drooling over and that I would do horrible, wicked, illegal things for if it meant I could read it
right now
. When I first heard about this book I very immediately
flipped my shit
 because of one very specific thing: it. is. a.
Labyrinth
. retelling. I've been WAITING for a book like this and it is finally,
finally
 here. And to top it all off I've been reading the author's newsletter and bits and pieces she's posted about the book and you guys. YOU GUYS. It is already so deliciously wonderful and lush and amazing that I could actually cry. I hunger for this book, and if it doesn't fall into my hands soon someone's going to end up in the Bog of Eternal Stench.
May 9, 2016
Hello, lost boys and girls! Welcome to my stop on the blog tour for Wendy Spinale's
Everland
! This novel is one of my favorite things: a
Peter Pan
 retelling, aka my kryptonite. Wendy's version takes bits of the original tale and twists it in a way that feels almost apocalyptic, and it's pretty unique. Stick around to learn all about the book and enter to win yourself a copy!
Apr 29, 2016
Title
: Undead
Publishing Date: September 1, 2012
Out of sight, out of their minds: It's a school-trip splatter fest and completely not cool when the other kids in her class go all braindead on new girl Bobby.
The day of the ski trip, when the bus comes to a stop at a roadside restaurant, everyone gets off and heads in for lunch. Everyone, that is, except Bobby, the new girl, who stays behind with rebel-without-a-clue Smitty.
Then hours pass. Snow piles up. Sun goes down. Bobby and Smitty start to flirt. Start to stress. Till finally they see the other kids stumbling back.
But they've changed. And not in a good way. Straight up, they're zombies. So the wheels on the bus better go round and round freakin' fast, because that's the only thing keeping Bobby and Smitty from becoming their classmates' next meal. It's kill or be killed in these hunger games, heads are gonna roll, and homework is most definitely gonna be late.
Combining the chill of The Shining, the thrill ride of Speed, the humor of Shaun of the Dead, and the angst of The Breakfast Club, Kirsty McKay's Undead is a bloody mad mash-up, a school-trip splatter-fest, a funny, gory, frighteningly good debut!
Book in One Word: YEEEEEEESSSSS.
Apr 25, 2016
Hello, hello! When Kathryn asked me if I'd like to help reveal the cover for
The Doorway and the Deep
--AND the redesigned cover of its predecessor,
The Water and the Wild
--OF COURSE I SAID YES. I
adored
 the fantastmical
The Water and the Wild
 (you can see my review
here
, if you'd like) and I have been forever waiting for news on book two. AND IT'S FINALLY HERE! I am so, so excited to share these covers with you on behalf of K.E. Orsmbee and Chronicle Books, but I fear I must warn you: you're going to need a handkerchief or sleeve to wipe up your drool.