May 25, 2015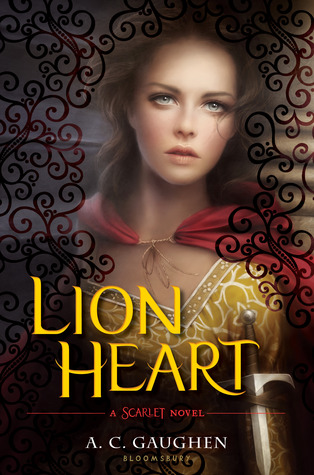 Title
: Lion Heart
Publisher: Bloomsbury USA Childrens
Publishing Date: May 19, 2015
The eagerly-awaited conclusion to the Scarlet trilogy delivers another action-packed and romance-filled adventure.
Scarlet has captured the hearts of readers as well as the heart of Robin Hood, and after ceaseless obstacles and countless threats, readers will finally find out the fate of the Lady Thief.
Imprisoned by Prince John for months, Scarlet finds herself a long way from Nottinghamshire. After a daring escape from the Prince's clutches, she learns that King Richard's life is in jeopardy, and Eleanor of Aquitaine demands a service Scarlet can't refuse: spy for her and help bring Richard home safe. But fate—and her heart—won't allow her to stay away from Nottinghamshire for long, and together, Scarlet and Rob must stop Prince John from going through with his dark plans for England. They can not rest until he's stopped, but will their love be enough to save them once and for all?
May 22, 2015
Hello, book diggers! Welcome to my stop on the blog tour for Kim O'Brien's
Bone Deep
! This YA novel is about a girl who spends her summer on an archaeological dig (!!!), mixed in with a bit of romance between her and the project manager's son, and the twist with the disappearance of her best friend. Really, you had me at archaeology. Kim is here to tell us what inspired her to write
Bone Deep
, and I'm here to tell you all about the book, where to find Kim, and share a cool giveaway, so enjoy--or, er, dig away?
May 20, 2015
is a weekly feature hosted by Breaking the Spine that 
showcases upcoming releases people are very much anticipating.
This book first caught my attention when I saw the cover, and then I looked it up and really liked the sound of it. For a couple months now I've had my eye on this book, and I really, really want it. I think it might be a little gritty, and the setting--and where the romance seems to be at its core--is pretty intriguing, so the distance from me to when this book releases is much too far away.

May 18, 2015
My TBR always has enough books to fill a black hole, and sometimes reading a lot of those books is hard because I need to prioritize review books first, and personal and pleasure books second. But then a reading challenge comes along that allows me to bump some books up on the priority list, and I have to say that the challenge is accepted. Hence the
Summer of Series
challenge, hosted by the uber cool
Danielle at Love at First Page
and
Lili at Lili's Reflections
!
May 14, 2015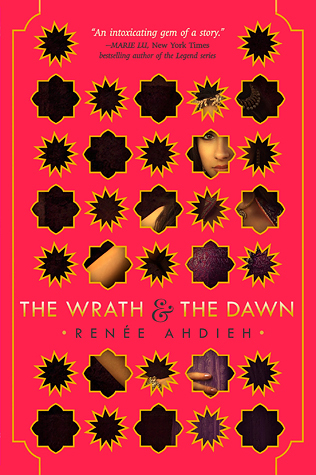 Title
: The Wrath and the Dawn
Publisher: Putnam Juvenile
Publishing Date: May 12, 2015
A sumptuous and epically told love story inspired by A Thousand and One Nights.
Every dawn brings horror to a different family in a land ruled by a killer. Khalid, the eighteen-year-old Caliph of Khorasan, takes a new bride each night only to have her executed at sunrise. So it is a suspicious surprise when sixteen-year-old Shahrzad volunteers to marry Khalid. But she does so with a clever plan to stay alive and exact revenge on the Caliph for the murder of her best friend and countless other girls. Shazi's wit and will, indeed, get her through to the dawn that no others have seen, but with a catch . . . she's falling in love with the very boy who killed her dearest friend.
She discovers that the murderous boy-king is not all that he seems and neither are the deaths of so many girls. Shazi is determined to uncover the reason for the murders and to break the cycle once and for all.
May 13, 2015
is a weekly feature hosted by Breaking the Spine that 
showcases upcoming releases people are very much anticipating.
This sounds kind of like Code Name Verity except it's a different World War and there are less prisoners of war and hopefully a lot less tears. Okay, so maybe it doesn't sound like Code Name Verity at all. BUT it is set in World War I with a BRITISH SPY who does go to Germany so, yeah, I want this book.

May 11, 2015
Title
: A Magic Dark and Bright
Author
: Jenny Adams Perinovic
Publisher: Bookish Girl Press
Publishing Date: April 28, 2015
She meant to help a ghost...not unleash a curse.
Amelia Dupree hasn't seen the Woman in White since the night her brother died. 
The ghost seems to have disappeared from the woods surrounding Asylum, Pennsylvania—that is, until Charlie Blue moves into the creepy old MacAllister House next door. Amelia can't help liking him, even though she spent her childhood thinking his grandmother was a witch. And she definitely can't ignore the connection between his arrival and the Woman in White's return. 
Then Amelia learns that the Woman in White is a prisoner, trapped between the worlds of the living and the dead. Devastated by the idea that her brother could be suffering a similar fate, Amelia decides to do whatever it takes to help the Woman in White find peace--and Charlie agrees to help her.
But when Amelia's classmates start to drown in the Susquehanna River, one right after another, rumors swirl as people begin to connect the timing of Charlie's arrival with the unexplained deaths. As Charlie and Amelia uncover the dark history of Asylum, they realize they may have unleashed an unspeakable evil. One they have to stop before everything they love is destroyed.
Book in One Word: asdflskjGOOD